As a web developer, backups are critical to my survival. I have always felt this way, but, truthfully, I haven't always lived that out. Mostly because back ups take up time and require management.
Question's like
How often should I do backups?
How often should I do backups?
You should have at a minimum a daily plan. The best option is an hourly plan, but your budget will determine how often.
Is backups one word or two?
Is backups one word or two?
Backups is only just word. It is a special word that is associated with technology so it is used differently.
How long should I keep backups?
How long should I keep backups?
If you can spare the space you should keep at least 30 days worth of backups. It is always easier to revert back than to recreate.
Backing up the WordPress application has it's own challenges. Will this back up take forever because there are over 3,000 files? How can I get my database to back up with the files? Without a database back up, your files won't know where to go!
I've tried other plugins, but BackWPup has been a dream to use.
Some BackWPup's Stats

Use BackWPup to keep your websites backed up.
If you are like me you manage 10 or more WordPress websites. Lately, updates are coming faster and more often which is a good thing. It means that bugs and security issues are found and addressed quickly. But updating your WordPress website always comes with a warning:
MAKE SURE YOU BACK EVERYTHING UP BECAUSE YOU COULD LOSE IT ALL!!!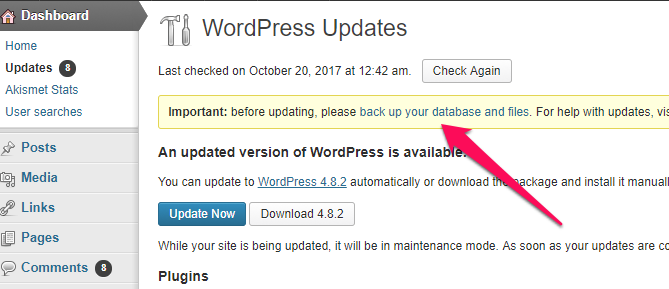 And yes that is WordPress 3.7.22 and that website is still using that version to this day.
Clicking the update button for the WordPress Core or Plugins always puts you at risk of damaging something. I can honestly say that I update often without thinking about backing up because I have a back up solution like BackWPup.
BackWPup allows you to make a complete back up of your WordPress installation and database. You can choose to back everything up or only some folders. The flexibility is awesome.
Did you know that We Do Internet can handle your Backups for you?
How do I use BackWPup?
I use BackWPup to back up websites on a schedule using EasyCron and store them in DropBox.
This only costs me about $8 a year. Yup, only $8 a year for EasyCron , everything else is on the free plans. There is also a free plan for EasyCron, check out my tutorial to learn more about the combining of BackWPup, EasyCron and Dropbox here.
I use the free Dropbox and increased my storage by adding friends (want to enjoy Dropbox and give me some free storage, click here).
• BackWPup has a featured filled FREE version!
• Backup to cloud storage, like Dropbox, Amazon S3 and others.
• BackWPup
• Useful Log file for developers
• Email alerts when things go wrong
• Too technical a Log file for non-developers
• Initial set up feels longer and more involved than it should be when combining
BackWPup, EasyCron and Dropbox
• Impatient users may get frustrated by the steps and interface
Overview
Overall, BackWPup is a good option for those wanting varied options and willing to deal with a little technical know how and patience. It isn't really that hard, click the button below for a step-by-step tutorial to set up BackWPup using EasyCron.com and Dropbox.com